As of January 25, 2018, the NIH is requiring that proposals be submitted on the new E-forms.  Any proposals submitted on old forms will not be accepted. Cayuse SF424 has been updated to conform with the new format but we thought that it might be useful to point out the most critically important changes.
First, please note that all "parent" packages now have two versions – Clinical Trial and No Clinical Trial required.  PIs will need to make a determination if the study qualifies as "clinical trial" vs. "clinical study." [see our previous blog on how to make that determination]. If you go to page 222 of the Basic SF424 Guidelines, you will see all the requirements for determining what package to use and what documents are required.
Secondly, PLEASE MAKE SURE YOU DO NOT ACCEPT OR USE A SUBAWARD FILE FROM FORM D as doing so will create an error which will prevent your proposal from being accepted.
Below are two subaward files – one for the parent R01 Clinical Trial package and one for the R01 Not for Clinical Trial package.  For any other opportunity you may be applying for and need the subaward budget file to send to your subawardees, please follow these instructions:
 1.        Open the attachment titled "Electronic submission details" to see where you need to go.
2.       Open the SF424 package that you will need to submit your application.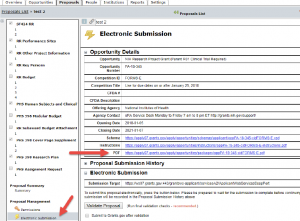 3.       On the left hand side of the package, click on "Electronic Submission" with the lightning bolt.
4.       Then, click on the PDF line.  This will open the SF424 in the old Adobe package.  Check the box for Subaward budget and then you can then download the subaward budget file that you need.  Make sure your subawardees use this package only.  You can tell if it is from Form E by the end date on the first page of the budget.  It should be dated 2019 or later.
*Thirdly, please note the attached file named "Format Attachments."  These are important guidelines about how the pages of the application should be formatted.
Format Attachments _ grants.nih
 If you have any questions about these items, please let the us know.
The OSP PreAward Team